This product is currently not available.
Glasses case Alfons Mucha: F. Champenois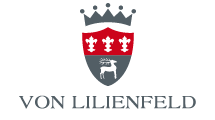 Alfons Maria Mucha was a Czech poster artist, graphic designer, illustrator and painter and is considered to be representative of the "Art Nouveau" or Jugendstil".
Here you can see a poster from F. Champenois Imprimeur-Éditeur which was completed in 1897.
The case is a sturdy snap box covered with fabric.

Inside is an elaborate VON LILIENFELD logo print in silver

The cases are carefully cushioned and the inside is covered in velour.
Outer dimensions 16 x 6,5 x 4,5 cm